Globe Town Project Inc believes that art and creative activity offers everyone the opportunity to express themselves in their truest sense. We collaborate with highly regarded and widely recognised Australian and International artists, and work together to develop the role of the arts in supporting positive change in the community. 
Jodie Davidson
Jodie's work as an artist is rich and varied – illustration, writing, sculpture, printmaking, painting, textiles, pastels, drawing and music.
She uses freely sourced materials in her work, wherever possible, strengthening her aim and belief that we can all play a part and work in harmony with our environment. Hand stitched detail and natural dyes come together with materials and imagery sourced from nature in illustrations. She experiments with salvaged rubber, cardboard, x-rays, metal and plastics as printmaking materials and recycles paper to use for her prints.
Through classes, workshops, music, public speaking and artwork, Jodie shares her thoughts and practices to encourage others to find their balance through the use of creative activity.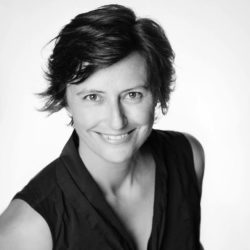 Deb Fitzpatrick
Deb Fitzpatrick is the author of six novels for adults, young adults and children.
Her two YA novels (90 packets of instant noodles and Have you seen Ally Queen?) were named Notable Books by the Children's Book Council of Australia; two of her books have been shortlisted in the West Australian Young Readers Book Awards (WAYRBAs); and her middle grade book The Amazing Spencer Gray was published in the US in 2017.
Deb loves using stories from real life in her novels and tries to include her kids' names in her books wherever possible.
Deb regularly teaches creative writing at schools and loves motivating writers. She also teaches professional writing and editing at Curtin University. Deb's latest book is The Spectacular Spencer Gray. Deb is the recipient of a 2020 May Gibbs Children's Literature Trust Creative Time Residential Fellowship to write her next novel.
Mark Storen
Mark is a highly regarded performer, musician, writer / director and teaching artist with national and international experience.
His Perth-based performance company, Whiskey & Boots, fuses storytelling and music to share stories gathered from within WA communities. They are currently touring two collaborative community works, Mamma Stitch and Bystander, in regional WA.
In 2017 Mark starred in The One as part of the Summer Nights Series at the Blue Room Theatre. The show won The Melbourne Tour Ready Award, The WA Arts Editor Award and secured a finalist place for the Martin Simms award.
Mark was Creative Director at Propel Youth Arts WA and has worked and collaborated with Barking Gecko Theatre Company, Spare Parts Puppet Theatre, Perth Theatre Company and Black Swan State Theatre Company, over many years.
Mark recently completed his Graduate Diploma in Education Secondary (Drama).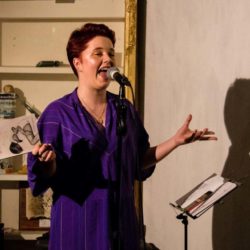 Maddie Godfrey
Maddie Godfrey is a writer, educator, editor and the 2020 Kat Muscat Fellow. They live on Whadjuk Noongar land with a rescue cat named Sylvia.
At 25, they have performed poetry at The Sydney Opera House, The Royal Albert Hall, TedXWomen, St Paul's Cathedral and Glastonbury Festival (2017). Their debut collection 'How To Be Held' (Burning Eye Books, 2018) is a manifesto to tenderness.
In 2018-2019, Maddie worked with Propel Youth Arts WA as the Creative Coordinator of Youth Week WA. In 2019 they were an Associate Producer for Express Media's 'Making Tracks' program. In late 2020, Maddie was awarded a writer-in-residence position by The National Trust of Western Australia.
Currently Maddie is completing a PhD on girlhood, teaching creative writing at Curtin University, editing Voiceworks Magazine and drinking soy cappuccinos. They are not a morning person.
Shout Out to Our Collaborators: actors Sam Longley, Georgia King, Nichola Renton; visual artists Sam Hughes and Jane Barwell, illustrators Soolagna Majumdar, Sarah Searle, Hien Pham, Sean E Avery and Andrew Frazer; manga artist Nami Osaki; musicians Zal Kanga-Parabia, Leon Ewing and Richard Lane; rappers Mathas and Brian Kruger, storytellers Alex Desebrock, Kerry O'Sullivan and Glenn Swift; Propel Youth Arts, Barefaced Stories, Said Poets Society, 5 Elements Theatre and Headspace Freo.
INTERNATIONAL COLLABORATORS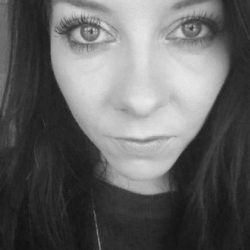 Nikki Watson
Nikki Watson is Artistic Director at Green Shoes Arts CIC, a not for profit arts organisation based in East London UK, that engages people of all ages within the local community in creative arts programmes that are inspiring, challenging and fun. Nikki is also Artistic Director of CoDa Dance, a London-based contemporary dance company which blends physical theatre with contemporary dance to create cutting edge choreography and performance. Nikki's special area of interest is creating work that looks at the effects that neurological disease has on sufferers, their families and caregivers, particularly those with MS. She has a keen interest in blurring the lines between audience and performer; community and professional productions and always wants a reaction from people she works with!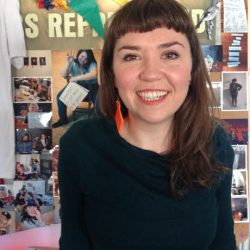 Rebecca Fidler
Rebecca is a Director, creative facilitator, artist and project manager who believes that creative arts are fundamental to personal development and bringing about social change. In her role as Creative Learning Manager at Brighton Dome and Festival Rebecca has been instrumental in developing Miss Represented and SPECTRUM. Miss Represented is an arts collective working with vulnerable young women who face complex life situations; the project creates a safe environment for participants to explore issues, feel empowered and have their voices heard. SPECTRUM is an artist development scheme offering local musicians a platform and network. Rebecca holds a BA in Performing Arts from University of Salford and an MA in Applied Theatre from Goldsmiths College, University of London. She has training in Music Leadership for Peace-Building and Social Change and is vocalist with The Bex Fidler Blues Band.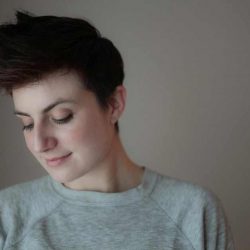 Annie Saunders
Annie is a director, performer and theatremaker. Her company, Wilderness, presents site-responsive, immersive physical theatre performances worldwide working with companies such as Los Angeles Performance Practice, San Francisco Playhouse and the Getty Villa in USA and Theatre Delicatessen and The Bush Theatre in London UK. She is a core performer with Lars Jan's Early Morning Opera appearing in Holoscenes, The Institute of Memory (TIMe) and Abacus. Annie has devised and performed original work in the UK, and has worked as a director in London. Annie holds a BA and MA in English literature from the University of London, and trained at the Sanford Meisner Center for the Arts, the American Conservatory Theater and the Royal Academy of Dramatic Art.